Centre Based Services
Lentor Senior Care Centre
Lentor Senior Care Centre (LSCC) is nestled in natural greenery between the Ang Mo Kio and Yishun housing estates. It provides social care and wellness services for  seniors during the day.  By providing person-centered individualised care, we aim to help our seniors lead high quality and meaningful lives.  At LSCC, we try to help our seniors age-in-place and remain integrated within the community by optimizing their functional abilities, providing supervised care and encouraging them to remain independent as long as possible.   
We also hope to provide peace of mind for the caregivers of our clients, who can be assured that their loved ones are enjoying meaningful activities, social interaction and physical exercise at our LSCC Senior Day Care programme.  Clients who are assessed to benefit from rehabilitation may also enrol in our Day Rehabilitation Service.  We provide convenient and seamless transport services to and fro LSCC, thus reducing caregiver stress from logistical arrangements for care.
LSCC is co-located with The Lentor Residence, our 208-bed nursing home.  Thus our LSCC clients can enjoy easy access to the full suite of services offered by The Lentor Residence for Residential Medical and Nursing care, Respite Care and Home Care services. 
LSCC currently provides the following services:
Day Rehabilitation Service
Senior Day Care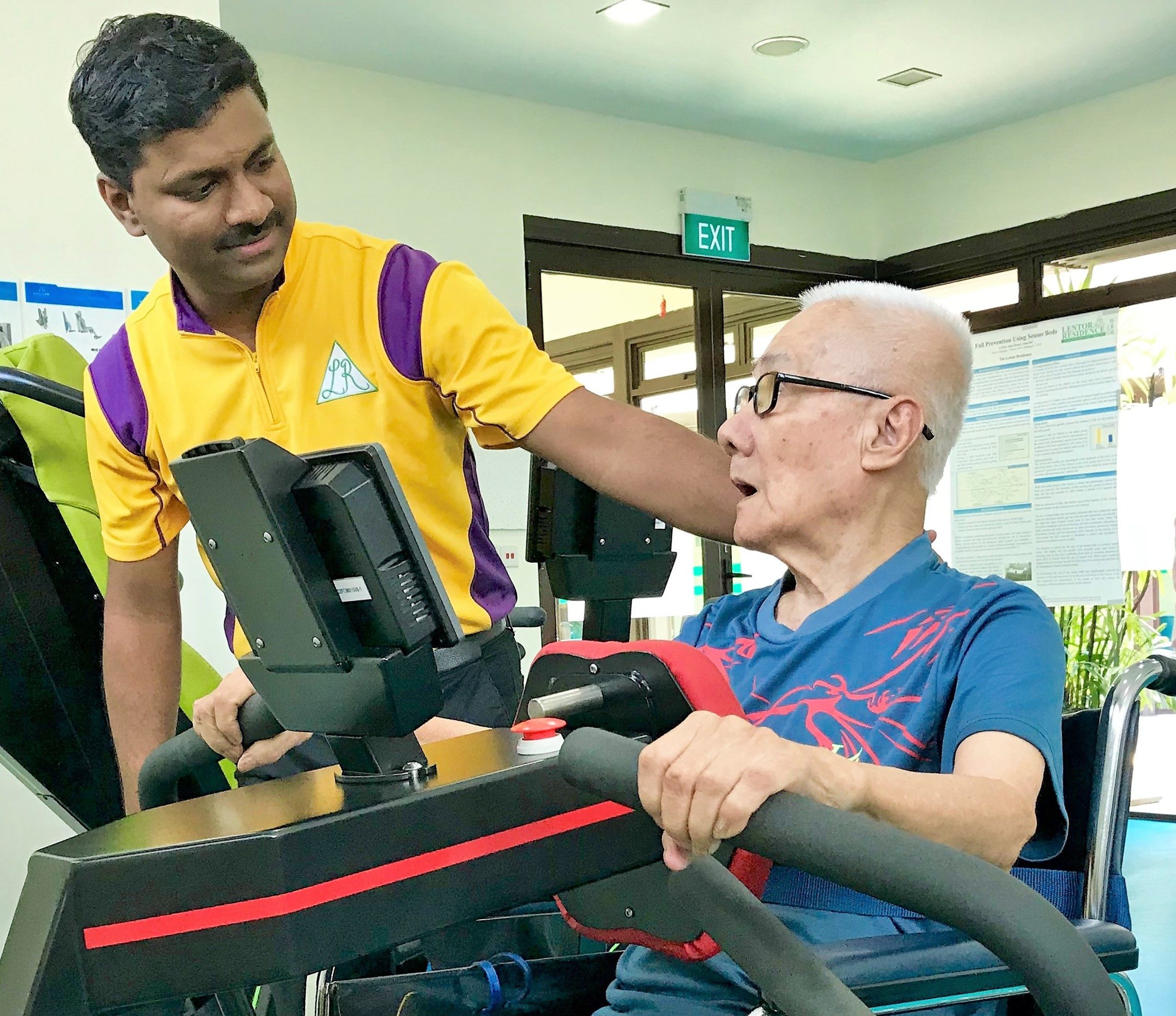 Day Rehabilitation Service
For many clients, rehabilitation may help them to improve their functional status and physical strength.  This is especially crucial for clients who are recovering from stroke or from an injury such as leg fracture after a fall.  We have a strong team of Alllied Health staff comprising Physiotherapists and Occupational Therapists who are registered with the Allied Health Professions Council (AHPC), and Therapy Aides.  Our Physiotherapists and Occupational Therapists will do a thorough assessment for our clients upon admission, and prescribe an individualised programme to achieve the rehabilitation goals of each client.  
You or your loved one may benefit from the Day Rehabilitation Service if:
You would like to improve your functional status after a stroke, traumatic head injury or spinal injury
You have an illness that has affected your function such as dementia or Parkinson's disease
You have a history of falls or are fearful of falling.
You have joint pain or pain on active movement.
You have had recent surgery or hospitalisation and suffered functional decline.
You have difficulties with your activities of daily living (ADLs).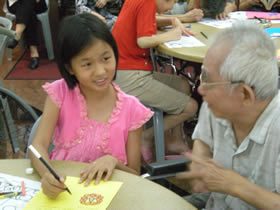 Senior Day Care
Our Day Care service provides a full and exciting programme for our clients in order for them to enjoy a meaningful and enjoyable time at our Centre. Our programme has been specially designed for our clients to maintain good mental function, enjoy social interaction and intergenerational activities, and group exercise classes. We also provide custodial care services to ensure that our clients' basic needs are taken care of. Some of our services include but are not limited to the following:
Custodial care for activities of daily living, nutrition management, medication reminder
Intergenerational Activities
Art and craft activities
Senior friendly games and group exercise
News and updates relevant to seniors
Outings to places of interest and neighbourhood shops
Fees
Our Fees range from $1,000 to $1,900 per month. Additional services such as medical escort, community rehabilitation and transport are available with additional charges.  
Financial Assistance and Subsidies
Singapore Citizens and Permanent Residents may be eligible for government subsidies and financial assistance, depending on the monthly household income per person, amongst other criteria. The amount of subsidy will be determined through the National Means Testing System (NMTS).
To find out if you are eligible to receive subsidies, please visit MOH Subsidies for ILTC Services or contact us at 64516300 for a personalised discussion.
Lentor Senior Care Centre is open to all seniors who are ambulant (able to walk around without assistance) or semi-ambulant. Please call 64516300 for a personalised discussion on eligibility for admission. Thank you.
Admission is simple via the following steps:
1. Make Appointment
Contact us at 64516300 to make an appointment to visit our centre.
2. Medical Report
A recent medical report (within the last 6 months) is needed for enrolment. You can obtain a medical report (e.g. Discharge Summary/In-patient Summary/Memo) from a hospital or General Practitioner.
3. Visit Us
Visit our centre at the appointed time with the medical report. You mayalso send the medical report to us earlier via email [email protected] 
4. Enrolment and Commencement
We will confirm the commencement date for our services once you have decided to enrol your loved one at LSCC, and we have assessed your loved one to be suitable for our services.  We look forward to welcoming your loved one to LSCC.
Frequently Asked Questions
1. Operating Hours
LSCC is open from Monday to Saturday, 7:00am to 7:00pm. We are closed on Sunday and on public holidays. 
2. Transportation
Transport services to and from the centre are available. Transport fees range from $250 – $600 per month before government subsidies.
3. Meals
Clients can enjoy breakfast, lunch and tea at our centre. Dinner can be provided at additional charges.