The Lentor Residence was established in 1997. With the new wing completed in 2013, it features spacious studio suites with an unblocked view of luscious greenery outside. Find out more about our suites. View Our Suites
Gracious and Healthy Living
The Lentor Residence was built with the strong belief that our seniors should enjoy quality life to the fullest with gracious and healthy living, minimizing ill health and retaining maximum use of the physical and mental faculties, as sunset years of the elderly are really the golden years. These years should be filled with Security, Comfort and Joy.
Professional Care
Our philosophy of living has guided our vision to build a residence for the seniors with professional care of medical, nursing, rehabilitation, nutrition and pastoral care when they require it. Our team of highly trained nurses are experienced in dementia care, wound care, fall prevention and other medical conditions.
Holistic Lifestyle Preference
Seniors are encouraged to keep up with their healthy lifestyle with in-house gym and wellness program as well as their usual social engagements as much as possible. Our concierge service will assist to arrange for transportation and escort services as required. Most of our rooms are single or double bedded with ensuite toilet and bathroom. Each room is tastefully designed with comfort and peace in mind. All rooms have windows looking out to lush greenery.
Peace of Mind
Family members of our residents can have peace of mind, knowing that their loved ones are well looked after by a team of professional staff.
We provide 24 hours nursing and medical care as well as a full suite of ancillary food and laundry services. We also enrich their lives with exciting and interesting programmes and activities.
Pastoral Care
We believe that holistic care encompasses pastoral care and spiritual well-being. Weekly Sunday worship service is held at The Lentor Residence. All are welcome to attend.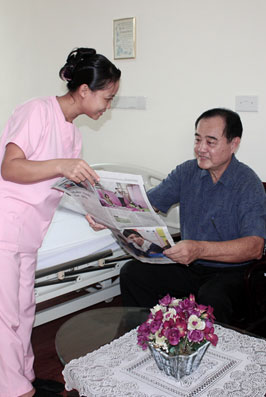 Mission
Resident-centred care facilities
Holistic lifestyle preference for the resident
Honor loved one with dignified living and peace of mind
Our Core Values
Compassion 怜悯

 – God's love enable us to love others, alleviate their pain and discomfort, treat them and their family with care and compassion.

Respect

敬重,重视

 – We treat everyone with honesty, dignity and fairness as we would like others to treat us.
Ethics 道德 – The moral will to do what is right. Ethical conduct is displayed through one's exemplary behaviours, respect for others and sense of loyalty and responsibility.

Attentive to staff 细心 

– Our genuine concern that we have for our staff and colleagues. This includes a personal touch and holistic well-being of our staff.

Teamwork

合作

 – Together, everyone achieves more. Provide relief, continuity and magnitude.

Edify

互相栽培

 – Mutual sharing, living and learning to discover our personal core being.